Classic and antique car headliners by your measurements
We have developed a unique web-based system to supply the classic and antique car "bow style" (sewn in headliners); that are used in the older cars from the early 70's and earlier. We have devised a system whereby the customer can pick their headliner material, color, and supply the correct measurements for us to produce a perfect fit bow style replacement headliner for the 1930's model automobiles up to the early 1970's. If we can get the measurements from you, our experienced craftsmen can build you a headliner that will fit well. We only sell the bowstyle headliners in cloth. It's a 4 step process. You can view a 56 Belair headliner installation by clicking on this link.

1. You find the number of panels that is in your car's headliner. Count the number of panels in your headliner (that should be between 4 and 10 panels) - NOTE: if you have 5 metal rods or attachments, you should have 6 headliner panels, if 9 rods or attachments you should have 10 panels. Always one more panel than there is attachments.

2. Get the measurements from your headliner and put them into the form fields according to the panel number (panel 1 = measurement 1, etc.); there is a diagram below of what a bow type headliner sort of looks like when laid out. Panel 1 is always the front panel, from the front windshield to the first rod or attachment - the last panel is always from the last rod or attachment to the package shelf or the rear window; which ever one applies to your car. To get the correct measurement; add 3 inches to the first panel and 3 inches on the last panels (for fastening) -- measure the panels in between the first and last panel the exact measurement (if 9 3/4; then use 9 3/4) -- starting from front to back in the center of the car. The diagram below may help you in measuring. ADD 5 inches to the measurement across the car (from side to side).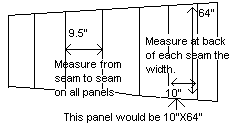 3. Next, go to the page (listed below) that has the same amount of panels that your headliner has; enter your measurements, choose your headliner color and any other options you want.

4. And then purchase the headliner; this will send us an order with your color, options and measurements on it and we can get started on your headliner. The bowstyle headliner is sold by panels - the price per panel is $11.75.