Old headliner board recovering
A bad headliner board can make headliner installation a pain in the neck, but there are some things you can do to help you to be able to save the headliner board. Just because it is spongy and weak feeling doesn't necessarily mean that it is ready for the scrap pile. Headliner boards can be hard to find, it will cause you to have to go and look, and it will cause you to have to spend extra money that you can be buying steak and taters with. A bad headliner board can be recovered with some careful attention. This headliner was out of a chevy truck and we used a standard cab truck headliner kit to replace it.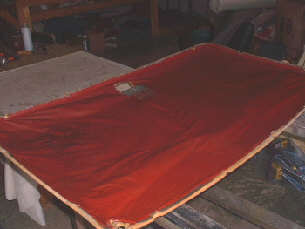 This is a Chevrolet standard cab truck headliner. The headliner board was soft and coming apart.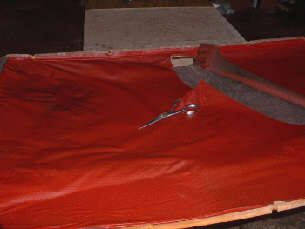 When you think the headliner board is weak, cut the material across the headliner and pull it off from the center out. This will help you to avoid tearing the edges all the pieces.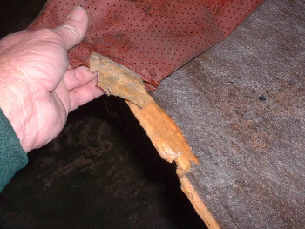 When you get to the edges, remove it slowly and carefully.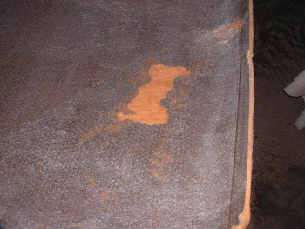 You can see here that in removing the cloth, we tore a chunk out of the board. But not to despair, we are going to cover over it.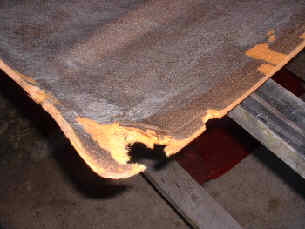 We tore up the front of the board pretty good, but about 1 inch of the edges go under the trim, so we are going to recover and it will look good.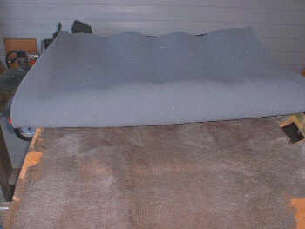 We recovered the board, floating (not gluing it there) it over the chunks that we tore out of it, put it back in the vehicle and it looked fine.
repair headliner board, patch truck headliner board, auto headliner board repair